Class Schedule.

..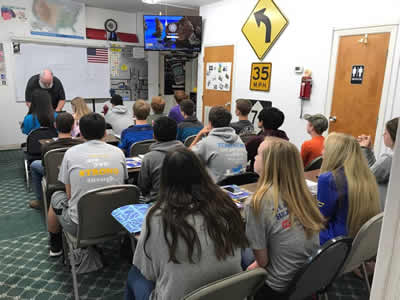 All Classes are Seated Classes...
Our Class Schedules are based on the Stanly County School Calendar
Please look at the dates of each class to make sure they fit your students schedule
A registration form is "required" to hold a seat in a class. Student must be 14 1/2 on the first day of class.
We only accept Cash, Check or Money Orders - No Debit or Credit Cards.
We do not offer classes or driving for adults - 18 yrs old or older.
COST

: Classroom & Behind the Wheel together is

-

$440.00

(cash or check only)
Additional charges may apply for students living outside Stanly County & Montgomery County
CLASSROOM INSTRUCTION ONLY- no behind the wheel is $250.00
WE MUST HAVE AT LEAST 6 STUDENTS TO HOLD CLASS - MAXIMUM NUMBER OF STUDENTS IS 20 IN EACH CLASS
2023 CLASS DATES: Need a Student Registration Form to hold a seat in the class
Students must complete 30 hrs. of classroom training, pass a final exam before the driving can begin.
Cost: $440.00 for classes and driving

- 30 hours of classroom and 6 hours behind the wheel
November 4,7,10,11,18 8 am - 2 pm ( Nov 7 (Tuesday) & Nov 10 (Friday) Stanly Co School holiday)
December 2,9,16,28,29 Christmas Class 8 am - 2 pm
2024 Classes - We must have a registration form to hold a seat in the class. Please look at the dates of each class to make sure your child's school schedule works for these classes.
January 2,3,6,13,15 8 am - 2 pm
February 3,10,17,19,24 8 am - 2 pm
March 2,9,11,12,16 8 am - 2 pm
April 1,2,3,4,5 8 am - 2 pm
May 4,11,18,23,24 8 am - 2 pm
Behind The Wheel Instruction Only
Pricing for Behind the Wheel is $345.00
All students must have completed 30 hours of classroom instruction and passed a final exam before they can be driven.
On the Home Page - click on the REGISTRATION FORM Sign - this is the Registration Form needed to hold a seat in the class - print out the form and send it to us: "write "Drive Only" on the form".
Once I received the Registration Form, I will forward you additional forms and payment information that needs to be completed in order to obtain verification from the driving school where the student took the classroom portion.
After all forms and payment is received and verified, then we can schedule the Behind the Wheel
NOTE: ALL Students will be picked up and dropped off at the Driving School location in Albemarle.
Students outside Stanly and Montgomery Counties - please call for pricing on the behind the wheel portion only.
Marvin Smith Driving School
130 East North St
P.O. Box 853
Albemarle, North Carolina 2802
Call: 704-982-6143
Email: marvin6350@gmail.com